Climbing & Via Ferratas in Zilllertal
Climbing has become a popular sport and in Zillertal it is a real thrill to conquer rock faces!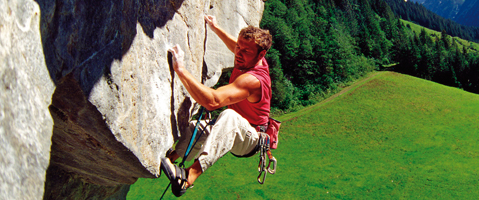 Climbing enthusiasts will find numerous possibilities to challenge themselves in the Zillertal Alps Natural Park. Routes of varying difficulty and types from free climbing to hall climbing and boulder to Alpine climbing, makes Zillertal a climber's paradise.
And then there's the extra highlight of the Gerlosstein Alpine via ferrata. It is the first via ferrata in Zillertal and takes climbers up to one of the most beautiful mountain peaks of the valley at 2,166 metres. Be prepared for some mighty views!
However, whether mountain climbing, climbing a rock face or ice with or without ropes, whether you are a climbing pro, climbing in the high ropes course in Gerlosstein or climbing with children, you safety is always the top priority. For the climbing safety of your children and your own demanding climbing tours we recommend you visit the Tux mountain and Alpine school for advice and training.
Rock festival in Tuxertal - book your climbing holiday here!