European Hiking Hotel in Austria
Only a hotel which has been proven to be a top hotel for hikers is allowed to use this title. At Hotel Tuxertal we are proud to have become the only European Hiking Hotel in the Zillertal valley - having been awarded 5 mountain crystals!
A European Hiking Hotel in Austria has to fulfil a number of criteria and this quality seal guarantees a perfect natural experience in a certified hiking hotel.
At Hotel Tuxertal we fulfil all of the quality criteria needed to become a member of the European Hiking Hotels group - and in some cases we even surpass these criteria:
Hiking Hotel Tuxertal, a family-run 4 star hotel, is located in an excellent, peaceful location
surrounded by the beautiful Alps, which are known as an excellent hiking region and as one of the most scenic and interesting regions of Austria and Europe.
we are - both privately and as your hosts - hiking enthusiasts as well as experienced nature and mountain guides and undertake regular training courses.
at Hiking Hotel Tuxertal we offer 3 daily guided hikes of varying difficulty (with hotel manager Hermann as your hiking coach as well as Iris and Ritschi as your hiking guides)
in addition we organise special hiking package offers to make your nature and hiking holiday in Zillertal a memorable experience!
at our hotel you will find special services available to make your hiking stay comfortable
conservation and environment protection is of huge important to us
our delicious cuisine is based on wholefood, seasonal, regional products and a healthy breakfast
relaxation and well-being is also encouraged in our hotel spa – with a great selection of wellness treatments and massages!
3 Guided Tours Every Day
We offer 3 guided tours of varying difficulty each day:
-Nature hike       -Gentle hike       -Sport hike
With our qualified hiking guide you can get really close to the beauties of nature.
Walk past raging waterfalls and mystical sources of energy. Pass through thyme-scented herbal pastures up to spectacular mountain summits. Here at the heart of the Zillertal Nature Park you will discover the peace and tranquility of the Tux and Zillertal Alps! All thanks to one of the best hiking hotels in Tyrol!
On your return to the hotel you can enjoy a very special kind of hiking accomodation. In the magnificent mountain and forest themed suites you will be enchanted from the moment you walk in!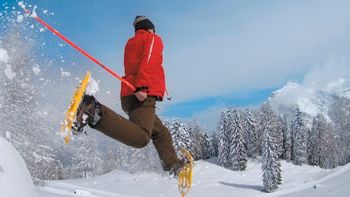 Snow-Shoe Hiking in Tuxertal
Come with us! Our trained snow-shoe guide will take you on a tour of the untouched nature of the Tuxertal valley twice a week!
This package includes 7 nights and the Tuxertal comfort board, as well as:
4 guided snow-shoe walks in the winter wonderland
Free snow-shoe hire
Picnic during a tour
Torch-lit walk
Free rucksack, walking stick, flask hire
Free sports bus
The Tuxertal comfort board:
Healthy, comprehensive breakfast buffet with regional products
Hearty skier snack from 2 until 5 p.m.
Or you can enjoy Evi's home-made cakes with coffee and non-alcoholic drinks from the buffet
Tea, Grander water and fruit from the wellness bar
5-course evening meal
Use of the spa area, with its sauna, steam bath, Kneipp grotto and pool
Cosy bath robes for use during your stay
Guest ticket for the free sports bus
from
€ 1,083.--
per person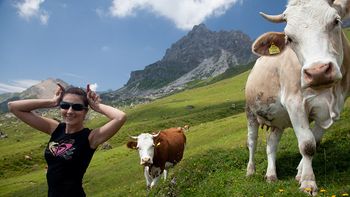 Hiking Week for Solo Travellers
We invite you to come and enjoy the impressive summit experiences with us and use the plenty of energy sources in the nature for your personal well-being!
7 nights with hiker's board
daily guided hikes of varying difficulty
no single occupancy surcharge
free hiker taxi
free rental of rucksacks, hiking sticks, Thermos flasks and rainwear
daily hiking boot cleaning service
Hiker's board includes:
breakfast buffet
coffee and cakes in the afternoon
5 course evening meal
use of the spa area (including a sauna, steam bath, Kneipp pools and indoor pool)
cosy bath gown for use during your stay
free use of the hiking bus with your guest card
from
€ 1,253.--
per person
(in the room Mountain Room )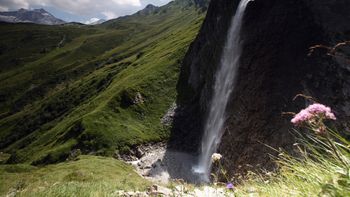 FOREST AND MEADOW THERAPY
On Kneipp tours and bare foot hikes we will take you closer to the strength of nature. With you helping us choose, we pick countless herbs and brew you a refreshing herbal tea (to take home too!)
from
€ 1,019.--
per person
(in the room Mountain Room )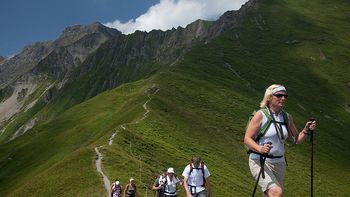 Hiking with Professionals
The package includes 7 days of Tuxertal pleasure board and in addition:
daily guided hike with different levels of difficulty
Monday to Friday 3 tours per day to choose from
daily tour advice
weekly mountaineer dinner
Hiking taxi free of charge
Backpack, walking sticks, thermos flasks and rainwear for hire
daily shoeshine service
The Tuxertal gourmet board:
Healthy, rich breakfast buffet with regional products
Hearty hiking snack from 2.30 p.m. to 5 p.m
plus Evi's homemade cakes and coffee as well as non-alcoholic drinks from the buffet
Coffee/tea/juices from 12 p.m. to 5 p.m
Tea, Grander water, juices and South Tyrolean organic apples in the wellness area
5-course evening menu to choose from
vegetarian and vegan menus to choose from
weekly fondue evening and gala dinner
Use of the wellness area with saunas, steam bath, Kneipp pool, panorama relaxation room, adventure indoor pool and infinity pool
Cuddly rental bathrobe
Guest card for free sports bus
from
€ 1,041.50
per person
(in the room Mountain Room )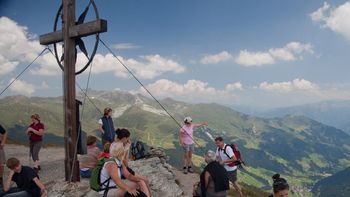 The package includes 7 days of Tuxertal pleasure board and in addition:
daily guided hike with different levels of difficulty
Monday to Friday 3 tours per day to choose from
daily tour advice
weekly mountaineer dinner
Hiking taxi free of charge
Backpack, walking sticks, thermos flasks and rainwear for hire
daily shoeshine service
The Tuxertal gourmet board:
Healthy, rich breakfast buffet with regional products
Hearty hiking snack from 2.30 p.m. to 5 p.m
plus Evi's homemade cakes and coffee as well as non-alcoholic drinks from the buffet
Coffee/tea/juices from 12 p.m. to 5 p.m
Tea, Grander water, juices and South Tyrolean organic apples in the wellness area
5-course evening menu to choose from
vegetarian and vegan menus to choose from
weekly fondue evening and gala dinner
Use of the wellness area with saunas, steam bath, Kneipp pool, panorama relaxation room, adventure indoor pool and infinity pool
Cuddly rental bathrobe
Guest card for free sports bus
from
€ 1,019.--
per person
(in the room Mountain Room )